Legal bid over Rotherham landlord licence plan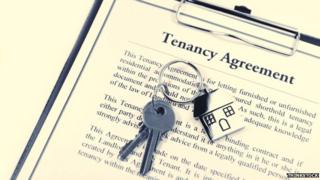 Private landlords in Rotherham have called for a judicial review of council plans to introduce a licensing scheme in four areas of the town.
The scheme, set to come into force in May, requires landlords to apply for a permit for each property they let at a cost of up to £625 for five years.
Rotherham Council said it would ensure properties were well maintained.
Landlords said it would increase costs and, following the resignation of the council's cabinet, should be scrapped.
A spokesman for the National Landlords Association said it had written to the government asking for it to be overturned.
He said: "Any future decision should be held back until the new council can hold an evidence based review and further consultation with key stakeholders and local residents."
The scheme is due to come into force in Eastwood, Masbrough, Dinnington and Maltby South East on 1 May.
It will be a criminal offence for a landlord to operate in a licensing area without a licence. Landlords who do not comply with the conditions of the licence could be fined.
Dave Richmond, director of housing and neighbourhoods for Rotherham Borough Council, said: "The authority has received the initial documentation notifying us of a potential legal challenge from the Rotherham Action Group and this is now being considered by our legal department."
Rotherham Council's cabinet resigned following the publication of a report by Louise Casey that said the council was "not fit for purpose".
The report was commissioned by Communities Secretary Eric Pickles after the Jay Report found more than 1,400 children were sexually abused in the town between 1997 and 2013 and said the council had a "prevalent denial of the existence of child sexual exploitation".