Sheffield's 2015 Yorkshire Half Marathon goes ahead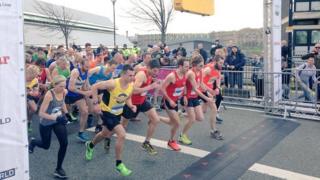 The 2015 Yorkshire Half Marathon has started without a hitch, following last year's cancellation due to a lack of water for runners.
Nearly 8,000 people took part in the race through the streets of Sheffield.
There was confusion last year when many runners completed the race amid police efforts to set up roadblocks, despite the event officially being cancelled.
Beverage firm Water Direct agreed to make a charity donation after failing to provide water for the 2014 race.