Goldthorpe demolition scheme for houses in "a spiral of decline'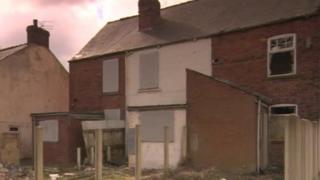 The demolition of 19 houses in "a spiral of decline" to help redevelop a former mining village has been approved by Barnsley Council.
The houses are numbers 1-37 Beever Street, Goldthorpe, South Yorkshire.
Fourteen of the 1900s terraced houses are privately-owned and the council owns five. After valuation a purchase price is to be agreed with owners.
The council heard the houses were of "very poor quality" and their decline had "to be stemmed before it spreads".
The council cabinet approved the scheme, estimated to cost about a £1m, as part of wider plans to redevelop central Goldthorpe. The work on the street is expected to start in 2016.
Low property values and renovation costs of more than £25,000 per dwelling meant most owners could not improve them, the council said.
A consultation has been held with tenants and property owners, it added.