Sheffield cyclists host mass ride for safer routes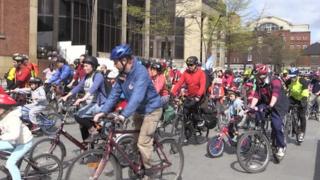 Hundreds of cyclists have taken part in a mass ride calling for safer bike routes in Sheffield.
The Big Ride is part of a national campaign to encourage local election candidates to pledge support for improved cycle safety.
Riders at the event at Barkers Pool called for lower speed limits in residential areas and bike lanes on main roads.
The council said it was working with groups to improve cycling in Sheffield.
Emma Metcalfe, from Cycle Sheffield, said she was delighted to see so many people taking part but "felt a pang of sadness" that it was an unusual sight.
She added: "We want to show Sheffield Council and election candidates that we want a [city] where you can ride a bike and it's not just for the quick and the brave.
"You can't go far from home without having to go on a main road. Even when there are cycle lanes, they run out and you're stranded and that's a huge barrier to cycling because people are scared."
A spokeswoman for the council said Sheffield would be the first major city in the country to commit to rolling out 20mph zones in all suitable residential areas, eventually covering a third of the city.