Ex-Rotherham children's boss Sonia Sharp quits Australia role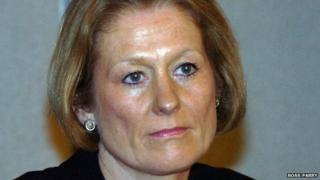 The woman who was in charge of children's services in Rotherham for three years during the grooming scandal has left her job in Australia.
Sonia Sharp led Rotherham's children's department from 2005-2008 before running education services in Victoria.
At least 1,400 children were sexually exploited in the town between 1997 and 2013.
Special Minister of State, Gavin Jennings said Dr Sharp was "seeking opportunities outside of government".
Andrew Collins, an advocate for historical abuse survivors, was one of the people who called for Dr Sharp to resign from her Victoria post in the aftermath of the publication of the independent Jay Report in August 2014.
Mr Collins said Dr Sharp's position was "inappropriate".
The Victorian Public Sector Commissioner carried out a review into Dr Sharp's appointment in 2012 as deputy secretary for the early childhood and school education group.
She served in the position until April 2013 when she took up a new portfolio that combined the school education and the early childhood development groups.
The review concluded that Dr Sharp's appointment was "conducted in accordance with appropriate processes".
Mr Jennings said: "The government makes no apology for raising these issues nor for seeking a thorough investigation after these very serious issues came to light.
"I am advised that Dr Sharp is now seeking opportunities outside of government and I wish her well."
Dr Sharp has previously apologised for the Rotherham child sexual exploitation scandal and said she wished she had been able to do more to prevent abuse.
Her successor in the role, Joyce Thacker, resigned in September after weeks of pressure following the publication of the Jay Report.
Both Dr Sharp and Ms Thacker were interviewed by the inquiry team as part of its work for Prof Alexis Jay.
Rotherham Council is now being run by five government-appointed commissioners.