Demolition notices issued for Barnsley revamp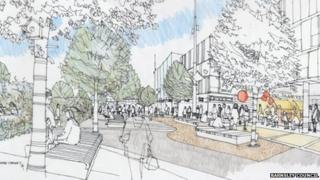 Demolition notices have been issued as part of plans for a £41m redevelopment of Barnsley town centre.
The redevelopment was announced in January 2014 and includes a new town square, library and a refurbished market.
Owners of properties close to those facing demolition have been told of the notices.
A multi-storey car park, offices and a shop will be brought down from the end of May.
The town's council said the plans would not affect existing budgets and be paid for by "recent asset sales and borrowing".
Jeremy Sykes, from the council, said: "This is an exciting step in creating a Better Barnsley - a redeveloped and improved town centre which residents will enjoy, businesses will want to invest in and that people will want to visit."
A new landscaped square is due to be finished in 2016 and the revamped market hall, shopping boulevard and new central library in early 2017.