Sheffield steel firm fined over grinding disc death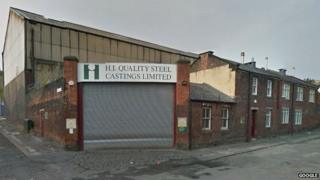 A steel firm has been fined £150,000 over the death of a worker hit in the mouth by fragments of an "unsafe" grinding disc which exploded.
Stuart Stead, 49, from Mexborough, was working at HI Quality Steel Castings Ltd, Sheffield, when he was struck by a shard of metal.
Father-of-three Mr Stead died at the scene in Forncett Street.
The firm admitted breaching health and safety regulations and was also ordered to pay £24,000 costs.
A Health and Safety Executive (HSE) investigation found the grinding disc "suddenly exploded", catapulting fragments across Mr Stead's work bay.
A shard went through his visor and hit him in the mouth.
'Near misses ignored'
Two colleagues reported hearing a loud bang and saw Mr Stead collapse to the floor.
When they ran to his aid they saw the broken visor and part of the disc in Mr Stead's mouth.
The HSE said the disc was bigger than allowed for an unguarded tool, was attached using "unsafe combinations of parts" and had been running at twice the speed it should have been.
Investigators found evidence of several similar incidents involving grinding discs at the firm, based at Trinity Works in Chesterfield.
These included one which was sent flying through the roof, another which shattered a light fitting 30ft (9m) away, and on which bounced off a worker's stomach.
In the week before Mr Stead's death, a lump came off a disc he was using and hit someone further down the workshop beneath their eye.
After the hearing, HSE inspector Jill Thompson said Mr Stead's death had been "horrific".
"The near-misses should have been a big warning flag to the firm that there was a serious risk that a worker could be severely injured or killed."
HI Quality Steel Castings produces steels for the railway, mining and other industries.