South Yorkshire naked couple statue to go back on display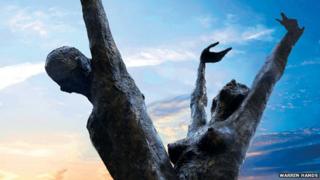 A naked couple sculpture which caused complaints is to go back on display.
The Lovers statue, depicting the couple embracing, attracted criticism after being installed in the Arndale Shopping Centre in Doncaster in the 1960s.
It was removed in the late 1980s and put into storage before being restored with the help of a local art group.
The fibre glass artwork will be displayed in the Waterdale Shopping Centre next month. The owners of the centre said "tastes had changed".
Richard Bannister, from St Modwen Properties which owns the shopping centre, described the sculpture as "an icon for Doncaster".
"I feel that tastes have probably changed a bit. It's arguably considered reasonably tame.
"At the end of the day it is a piece of art and I think it should be enjoyed for what it is," he said.