South Yorkshire Police facing £14m for Hillsborough legal fees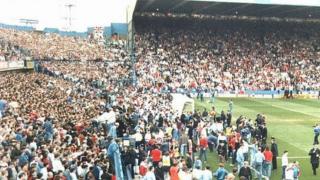 Legal fees for eight former South Yorkshire Police officers giving evidence in the Hillsborough inquests have cost £14m, a report has revealed.
The South Yorkshire Police and Crime Panel's budget report also states the "potential for further significant costs" as hearings continue.
But the force, which has a legal duty to support its staff, said its reserves might not be enough to pay the bill.
In March, the Home Office agreed a £10.7m grant to cover the costs.
Ninety-six Liverpool fans died after crushing at the FA Cup semi final match between Liverpool and Nottingham Forest held at Hillsborough in 1989.
Fresh inquests into the deaths were ordered after the original accidental death verdicts were quashed in 2012 following an independent report.
Chief Superintendent David Duckenfield, who was match commander at the time of the disaster, and Superintendent Roger Marshall, who was in charge of Liverpool supporters outside the ground, are among the eight officers giving evidence at the inquests.
Terry Wain and Donald Denton, two chief superintendents who were involved in the gathering of evidence from police officers after the disaster, are also being legally represented at the hearings.
'Reserves not sufficient'
In the report, Chief Finance and Commissioning Officer Allan Rainford expressed his "concern about the potential costs" as the hearings could run until summer next year.
He stated: "...although the Home Secretary has set out the principles on which funding will be provided, the level of funding is subject to further discussions with the Home Office and has not yet been finalised.
"There remains a risk that the level of [government] grant may fall well below the level of expenditure incurred. The available Reserves may not be sufficient to meet this cost."
The report also revealed about £1m was spent on covering the legal fees of Chief Constable David Crompton because he was an "interested person" in the proceedings.
South Yorkshire Police and Crime Commissioner Alan Billings had previously described the financial situation for the force as "grave" and said taxpayers in the region would "have to bear the additional cost".
He said it would ultimately impact on the police budget and the force's ability to provide policing and crime services.
Special grants can be provided to police forces facing unexpected or exceptional costs exceeding 1% of its annual budget.