Sheffield academic's Nobel Prize medal sells for £225,000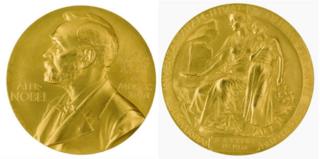 A Nobel Prize medal awarded to a scientist who fled to Sheffield from Nazi Germany has been sold at auction for £225,000.
Sir Hans Krebs won the prize for medicine in 1953 for his work on how food is converted to energy - a process which became known as the Krebs Cycle.
He made the discovery while working at the University of Sheffield.
The medal was sold at Sotheby's in London. The proceeds will go to the Sir Hans Krebs Trust.
Professor Dave Hornby, of the University of Sheffield, said Krebs' work "underpins everything we know about nutrition, energy and growth" and backed the sale of the medal to fund the work of the trust.
"Medals are very important for individuals and families," he said, "but the Krebs family... has decided that, rather than the medal sitting in a dusty case, why not make it work for science again."
Krebs, who was Jewish, left Germany in 1933 after he was dismissed from his post at the University of Freiburg following Hitler's rise to power.
He initially worked in Cambridge before he took up a post at the University of Sheffield in 1935 where he worked for 19 years.
The Hans Krebs Trust provides grants for the support of refugee scientists.