Sheffield council scraps solar panel plans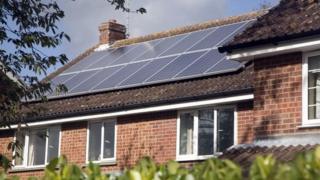 A plan to fit solar panels to homes in Sheffield has been scrapped because of funding cuts, a council has said.
Sheffield Council announced it would not install panels to 6,000 council homes after a 64% cut in subsidies by the government.
Sheffield's Green Party said the failure to carry out the plans was "bad for the city".
The government said subsidies had been reduced as the cost of the technology had gone down.
The council said it was still involved in a number of projects to help keep heating bills down.
In January 2015, the council set out its Housing Revenue Account (HRA) business plan, to install panels on thousands of roofs to bring in feed-in-tariff subsidies and reduce tenants' energy bills.
The system was designed to pay producers a subsidy for the electricity they generate, plus a bonus for any electricity exported back to the national grid.
After a government review, it was announced in December subsidies for small scale solar electricity panels on homes were to be cut.
'Promised benefits'
Councillor Jayne Dunn, cabinet member for housing at the council, said it was replacing thousands of boilers and providing new windows and doors to help tenants.
"This position has been imposed on us by changes in government policy. We are involved in a huge number of green initiatives to make sure our tenants live in energy efficient homes and can keep their heating bills down."
Sheffield Green Party said slow progress on the HRA project had angered the party.
A spokesman said: "This delay has meant thousands of council tenants won't receive the promised benefits, millions of pounds previously available in subsidies have been lost and carbon emissions will not now be cut."
A Department of Energy and Climate Change spokesperson said: "The government continues to support the low carbon sector but for this to be sustainable it needs to be driven by competition and innovation, not subsidies.
"As the cost of technologies comes down so should the consumer-funded support."