Blackburn Meadows water works get £78m upgrade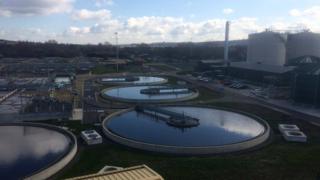 A £78m scheme to improve a waste water treatment works in South Yorkshire has been completed.
The work at Blackburn Meadows, Sheffield, started in 2012 to reduce ammonia levels in the River Don.
Yorkshire Water said the river's water quality was now "healthier than at any point since the Industrial Revolution".
The revamp will also aid plans to reintroduce salmon into the city centre for the first time in more than 100 years, it said.
The facility was built in 1884 and is now opposite Meadowhall shopping centre.
'Revolutionised'
It recycles waste water from Sheffield and parts of Rotherham and serves about 800,000 homes and businesses across South Yorkshire.
The company has spent more than £40m on improving the waste water treatment processes and also installed a storm overflow system to help prevent large debris entering the river.
Chief executive Richard Flint said: "Blackburn Meadows has been revolutionised during the last few years and is now a truly state-of-the-art infrastructure that Sheffield can be proud of.
"It highlights our commitment to improving water quality and wildlife in the River Don and also, crucially, protecting the site against the risk of extreme flooding happening again."