Pupils and teachers ill after school swimming lesson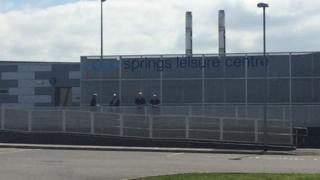 Eight children and two teachers have been taken to hospital with sickness symptoms after a swimming lesson at a Sheffield leisure centre.
The 10 fell ill after a "chemical reaction in the plant room" at Springs Leisure Centre on East Bank Road at about 09:30 BST.
The centre was closed until Tuesday morning.
Chief executive Steve Brailey said an internal inquiry was carried out and the equipment had been repaired.
"We would like to pass on our best wishes to the children and teachers affected by the incident," he said.
"All areas of Springs Leisure Centre will reopen to the public as normal from 7am tomorrow morning.
"We have identified the problem which was caused by a reaction of chemicals in the plant room. The equipment repair has been completed.
"We have been liaising with Environmental Health Services throughout the day."