Civil servants strike over Sheffield BIS office closure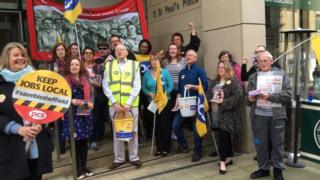 Civil servants at the Department for Business, Innovation and Skills (BIS) are taking part in a 24-hour strike in protest at plans to shut the department's Sheffield office.
The government wants to relocate the office, which employs 247 people, to London by 2018, saying the move will reduce operating costs .
Union officials, however, say the move will "cost money not save money".
A BIS spokesman said the closure decision had "not been taken lightly".
Members of the Public and Commercial Services Union (PCS) voted in favour of the strike after a ballot held last week.
Marion Lloyd, of the union said claims the move would save money "made no sense" and called for the government to "come to the negotiating table".
Members of the union have also staged a demonstration outside the Cutlers' Hall in Sheffield where the Business Secretary, Sajid Javid, is the principal speaker at the annual Cutlers' Feast for business figures.
Moving the office to London would cost the government an extra £2.5m more annually, according to estimates from Labour-run Sheffield City Council.
Council leader Julie Dore said she had asked to meet Mr Javid but had been refused.
She said: "We have a strong case to make [that the move will cost more money] it's just that we can't get it to the secretary of state who is going to make the final decision."
Labour Sheffield Central MP Paul Blomfield said he had spoken with National Audit Office chief Amyas Morse and was told the official would follow up on his concerns about increased costs.
He said locating staff in London would also "weaken decision-making by excluding voices from around the country".
A BIS spokesman said: "The proposal to close the BIS office in Sheffield has not been taken lightly and ensuring staff are fully briefed and consulted remains a huge priority for us.
"That's why the Permanent Secretary, along with BIS officials and board members, have engaged with staff and unions closely as part of the formal consultation and ministers have discussed the proposals with both MPs and in Parliament.
"The board is now in the process of giving full consideration to responses received."
He confirmed that Mr Javid was in South Yorkshire for a number of engagements but was not available for comment.