Sheffield BIS office closure: Watchdog inquiry into government plans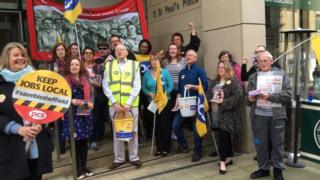 The National Audit Office is to look into the government's controversial plans to close a departmental office in Sheffield and relocate jobs to London.
The Department for Business, Innovation and Skills (BIS) is moving 250 jobs to the capital in what it says is part of measures to help save £350m by 2020.
Staff in Sheffield will be offered financial help if they relocate.
Auditor general Amyas Morse said a "value for money" study would examine BIS's plans including the closure.
Live updates on this story and others from across South Yorkshire
Officials confirmed last month it will shut the office in St Paul's Place in January 2018, with staff staying in their current location until then, and had said "anyone who wants a role in London will be able to have one".
Mr Morse told the Public and Commercial Services union the study would include the planning, analysis and oversight of BIS's programme.
'Farcical decision'
A spokesman for the union said: "This is a very welcome development that we hope will shed some light on the plans, which we still think should be scrapped.
"Ministers and senior officials have utterly failed to make the case for Sheffield to close and for these jobs to move out of a northern powerhouse city and back to central London."
Louise Haigh, shadow civil service minister and Labour MP for Sheffield Heeley, said: "It is hugely welcome that ministers involved in this farcical decision will finally be held to account by the chief auditor for their fantasy claims that moving jobs to London from a cheaper base in Sheffield will save money.
"The truth is that the decision... was based on the London-centric prejudice of ministers and senior civil servants, and that this prejudice will cost the taxpayer money as well as silence the voice of cities like Sheffield in the corridors of power.
"It's high time the government were forced to answer for an organisational restructuring which looks increasingly half-baked."
Permanent secretary Martin Donnelly had said the move was intended to "modernise the way the department works" and "had not been made lightly".
"It remains our top priority that staff are fully supported and briefed on what this means for them and their options," he added.