South Yorkshire Police 'failed to act' over Sheffield Pride abuse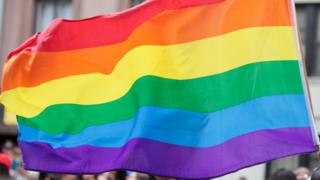 Student leaders have accused South Yorkshire Police of failing to act against incidents of hate speech at the Sheffield Pride event.
Sheffield Hallam Students' Union say people at the event were targeted by "hate preachers" but officers did nothing to stop the abuse.
It said it had concerns the force was "not taking discrimination seriously".
Police said they were examining a number of complaints received since the event at Endcliffe Park.
More on this story and other news in South Yorkshire
The Students' Union has written to South Yorkshire Police and Crime Commissioner Dr Alan Billings to complain about the police.
Education officer Luke Renwick, who attended the event on 30 July, said a group of about 15 people had targeted attendees, branding them "an abomination" and saying they were "going to hell".
He said police did not take action until people at the event began shouting back at the group.
'Listen to concerns'
Mr Renwick said: "We expected the police to move these people on or move them back from the event.
"It was so wrong what they were saying and [the police] just stood there."
A spokeswoman for Dr Billings said the policing of the event was a matter for South Yorkshire Police but that he would listen to concerns from the community.
Assistant Chief Constable Jason Harwin said the force was aware of concerns about a protest group.
He said: "While everyone has a democratic right to freedom of expression, it does not give individuals the right to commit any criminal offence.
"We will also be looking to meet with members of the LGB&T community to discuss any concerns they may have following the event."