Greens' Natalie Bennett to contest Sheffield Central seat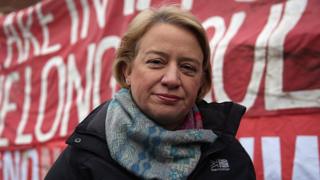 The former leader of the Green Party, Natalie Bennett, has been selected to contest the Sheffield Central constituency in the next election.
A party spokesman said she had been selected ahead of a "likely Spring snap election".
Ms Bennett will replace Jillian Creasy as the party's candidate. The seat is held by Labour's Paul Blomfield.
Ms Bennett resigned as leader of the Green Party in August after four years at the helm.
Ms Bennett said she was "honoured" to be chosen.
"I visited Sheffield regularly as Green Party leader and what I saw made me decide to make my life here," she said
"I was inspired by the great radical political tradition and the exciting developments in small businesses, social enterprises and cooperatives.
"I saw inspiring artistic endeavour, the energy of the universities and their students and experienced the green environment of the Outdoor City."
The Green Party has one MP, Caroline Lucas in the Brighton Pavilion seat. It secured 3.8% of the vote at the 2015 general election.