Rotherham drone company wins £8.5m water monitoring deal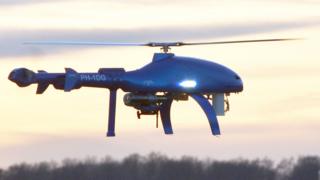 A drone company in Rotherham has won a 10 million euro (£8.5m) contract to monitor the pollution in Europe's rivers and seas.
Martek Marine is to send two of its two-metre long drones to measure the sulphur and CO2 levels emitted from commercial ships.
The European Maritime Safety Agency (EMSA) will use the data to check if the ships meet current EU standards.
Airborne sulphur is a major cause of acid rain, harming crops and buildings.
More on this and other South Yorkshire stories
CEO Paul Luen said the drones, which feature thermal imaging cameras, would be sent 50km offshore.
"To carry out this work so far offshore it has to be able to fly for up to six hours and carry a payload of up to 10kg.
"It will also have to withstand all weathers, including gale-force winds and heavy rain. It's effectively a mini-helicopter," he said.