Charges dropped against Sheffield tree protesters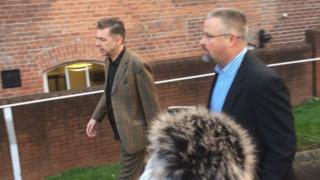 The cases against two men charged in relation to a protest against tree-felling in Sheffield have been dropped, the Crown Prosecution Service (CPS) has confirmed.
Simon Crump and Calvin Payne were arrested over a campaign to protect a 100-year-old plane tree.
Mr Payne, 44, and Mr Crump, 56, both from Sheffield, pleaded not guilty to the charges at an earlier hearing.
The CPS said continuing with the case was "not in the public interest".
More stories from Sheffield and South Yorkshire
About 150 supporters staged a protest outside Sheffield Magistrates' Court when the pair appeared there in December.
It followed a protest against plans to cut down a tree in Marden Road, Nether Edge, on 2 November.