Barnsley Council commits extra £70m to Glass Works retail scheme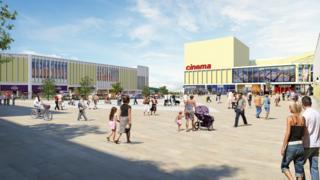 Barnsley Council is to invest an extra £70m in the town's new Glass Works retail and leisure development.
The authority, which has already invested £50m in the scheme, said the project would generate about 800 jobs.
Council leader Sir Stephen Houghton said committing extra funding was "the right thing to do and will contribute towards building a thriving economy".
He said the investment would be paid for from the rent and business rates generated by the development.
More stories from across Yorkshire
The 3.8 hectare (9.3 acre) Glass Works site in Cheapside will boast shops, restaurants, a cinema and bowling alley alongside a new home for Barnsley Market and the Central Library.
Sir Stephen said: "An investment like this will stimulate inward investment, economic growth and create more and better jobs by providing around 800 new retail and leisure opportunities and temporary jobs in the construction industry."
The additional £70m will fund the second phase of the development subject to obtaining planning permission.
The scheme is scheduled for completion in May 2020.