Rotherham's former magistrates' court to be sold for £1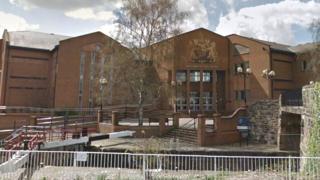 Rotherham Council has agreed to buy the town's former magistrates' courts for £1 as part of redevelopment plans.
The building will be demolished after being sold by Her Majesty's Courts and Tribunal Service.
The site is part of larger development opportunity that includes Forge Island, the Weirside site and Riverside Precinct, the council said.
The sale has to be made by the end of March and demolition is then due to take eight weeks.
Live updates and more stories from Yorkshire
Demolition costs are "not expected to be significant" and the cleared 1.34 acres (0.54 hectares) site would be worth about £500,000, the council said.
The building, which has been empty since September, was built behind the police station on Main Street in 1990.