Kickboxer Scott Marsden, 14, dies after Leeds title fight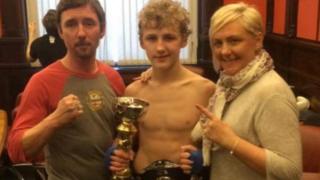 A 14-year-old kickboxer has died after collapsing during a national title bout.
Scott Marsden was taken to hospital after needing urgent medical attention during the fight in Leeds on Saturday, but later died.
Scott was a member of Marsden's All Styles Kickboxing, in Sheffield.
Jon Green, president of World Kickboxing Association (WKA) England, said Scott was "a well loved and respected fighter and sportsman".
West Yorkshire Police said officers were making inquiries into what happened but the death was not being treated as suspicions.
The Marsden's All Styles Kickboxing club posted a statement on Facebook on Sunday, which said training was cancelled until further notice.
'True champion'
A post written earlier in the day said: "Unfortunately, (Saturday) night's English title fight had to be stopped due to Scotty needing immediate medical attention.
"There was no way to foresee the fight ending in such a way as at no point were either ever in any overwhelming danger from each other.
"Everyone is still in shock as there were simply no signs to suggest the fight needed to be stopped.
"The referee stepped in to protect Scott as soon as he could, which meant Scott did not hit the canvas and was laid down and straight into recovery position."
A fundraising appeal has been set up for Scott's family and tributes to the young kickboxer have been posted on Facebook.
A statement posted online by Leeds Martial Arts College, which is based in Alexandra Mill, said: "Our deepest condolences and sympathy go to our friends the Marsdens at this terrible time.
"Scotty will always be in our hearts and our thoughts and we miss you dearly.
"A true champion in every way whose energy and positivity affected everyone he met."
Mr Green said: "Not just WKA but the world of Kickboxing is mourning such a well loved and respected fighter and sportsman.
"One of our finest champions in every sense in the ring and true ambassador of the values out of the ring."
Mr Green said there were "no failings on either teams, promoter had everything in place."
And he said ringside paramedics "fought tirelessly to keep Scott with us".
But Mr Green added: "Unfortunately there were complications where additional emergency response was needed to which NHS emergency response requests failed in a way that cannot be comprehended.
"There are many questions to be answered. I owe it to Scott and the Marsden family that they get answers to why our 999 service has let them down."
Yorkshire Ambulance Service NHS Trust, said it had received an emergency call at 22:30 GMT.
"A private events medical team was on scene with the patient and the nearest available ambulance was dispatched to the incident and arrived on scene at 10.51pm.
"In addition, we dispatched the West Yorkshire Medic Response Team with a doctor on board, and a clinical supervisor specially trained in advanced resuscitation techniques.
"All of our staff worked tirelessly to provide the patient with the best possible care and transport him to hospital for further treatment", the statement added.
Former WBO world champion Enzo Maccarinelli was among those to pay tribute to Scott on social media, saying his family were in his thoughts and prayers.
Dale Barrowclough, head teacher at Forge Valley School, in Sheffield, where the teenager was a pupil, said he was "deeply saddened by the news of Scott Marsden's passing".
He said: "Scott was a very popular young man among pupils and staff alike and it is without doubt that he had a very bright sporting future ahead of him.
"Today and yesterday have been very difficult here in school. Pupils have been, and continue to be, supported by staff and fellow pupils alike."