Barnsley fatal house fire: blaze caused by tea-light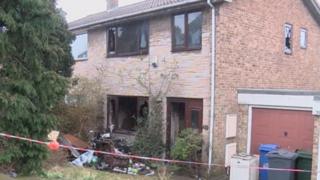 A house fire in which a woman died is thought to have been caused by a tea-light.
The woman's body was found inside the property on New Road in the Staincross area of Barnsley, at around 17:50 GMT on Friday.
South Yorkshire Fire Service said the house was "well alight" when crews arrived.
Investigators at the scene believe a small tea-light candle was to blame.
Graham Toms, from South Yorkshire Fire Service, said: "Due to the conditions inside, it was very, very difficult working conditions.
"They brought the lady out instantly but unfortunately she was pronounced dead by paramedics at the scene.
"Conclusions at this moment in time are that it's an accidental fire caused by smoking material or more likely, a tea-light."
A Just Giving page has been launched to support the families affected by the fire.
Julie Lau, who started the page, said the money would also be used to support the couple who live next door, and had their house damaged by the fire.