Vulcan aircraft charity raises £200,000 to maintain bomber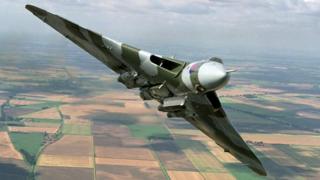 The charity that looks after the last airworthy Vulcan bomber has reached its £200,000 funding target to maintain the aircraft while it is in "hibernation".
The trust's XH558 bomber was grounded in October 2015 after engineering backers, including Rolls Royce, withdrew support.
The cash will pay for maintenance while a visitors' centre is built at Robin Hood Airport, in Doncaster.
The new centre is expected to open by the end of the year.
The trust said more than 2,500 supporters had donated cash to raise £100,000 - an amount that will be match-funded by donors.
More on this and other South Yorkshire stories
Vulcan bombers carried Britain's nuclear deterrent throughout the 1960s. They were retired from RAF service in 1993.
The XH558 bomber was the last airworthy example in the world before it was grounded.
It was the last Vulcan to fly as an RAF aircraft in 1992 and was initially brought back into service by the trust in 2008.
'Future fundraising'
In January, the Vulcan to the Sky Trust cut almost two thirds of its 22 staff after the decision was made to put the aircraft into storage.
Dr Robert Pleming, the trust's chief executive, said the fundraising gave the charity "breathing space" to allow them to develop the new visitors' centre.
"This could even see us put XH558 through her annual service, returning her to ground running condition this summer," he said.
"We hope it will give us the options to possibly bring XH558 back to life earlier than we had hoped which, in itself, will help with future fundraising."