Pioneering World War Two jet fighter pilot Dennis Barry dies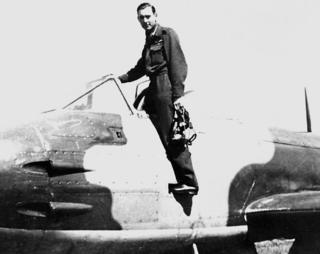 One of Britain's first ever jet fighter pilots has died aged 95.
Sqn Ldr Dennis Barry was one of 16 pioneering pilots trained to fly the Gloster Meteor, which was rushed in to service in 1944 to combat Nazi Germany's V1 'Doodlebug' rockets.
Mr Barry, originally from London, lived in Sheffield after World War Two where he worked in the motor trade. He died on 10 March.
He is thought to have been the last surviving wartime Gloster Meteor pilot.
More stories from across Yorkshire
Aviation historian Air Commodore Graham Pitchfork, who knew Mr Barry, said: "I never flew with him but, to do what he did and fly Hurricanes, Spitfires then become one of the first jet pilots, he had to be an extremely good pilot."
"As a man he was a delightful person to share company with. I was very sorry when I heard he had passed away."
Mr Barry joined the RAF in 1940 aged 19 and went on to fly Hurricanes and Spitfires with 504 Squadron.
In 1943 he joined 616 Squadron, based in Doncaster, where he was among the first pilots trained to fly the new Gloster Meteor.
The aircraft were used to mount ground attacks on airfields, troop concentrations and motor transports across Europe and he was awarded the French Croix de Guerre with Palme for his wartime exploits.
Mr Pitchfork said that after the war Mr Dennis joined the Royal Auxiliary Air Force (RAAF) and had a "very unique adventure" when the engines of his Meteor failed at 25,000 feet.
With no ejector seat, he was forced to bale out at 1,500ft, breaking his leg as he hit the ground.
He said the incident was "one of very few successful manual escapes from a jet fighter".
"He was a man of his age," said Mr Pitchfork. "They were all heroes to me, as to fly in the RAF you had to be a volunteer."