Sheffield's sewer gas lamps get new lease of life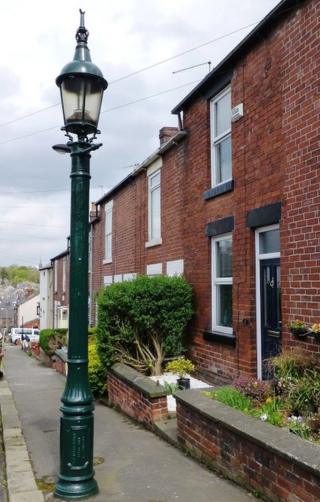 Gas street lamps originally invented to burn off dangerous sewer gas are being restored in Sheffield.
JE Webb's cast iron Sewer Gas Destructor Lamps were designed to burn methane and other stagnant gases which regularly accumulated in urban Victorian sewers.
They were erected all around the country between 1914 and 1935.
Sheffield once had more than 80 of the lamps and now has 25, 20 of which are Grade II listed.
Residents began campaigning for the lamps to be restored when the city council's replacement of every lamppost began, as part of the 25-year Streets Ahead road improvement programme.
---
How Sewage Gas lamps worked
JE Webb of Birmingham invented the Sewage Gas Destructor Lamps for places which had pockets of gas, often at the top of hills
Burning mantles created intense 700F heat in the lamp-hood, drawing up sewer gases
As the gases passed through the lamp into the air, smells and bacteria were destroyed by the heat
Sheffield has four gas-powered lamps, which will remain so after their restoration
---
Nicola Wray, of Historic England, said: "These lamps are notable survivals of a type of street furniture which were once common, but are increasingly rare.
"Combining them with sewer vents was an ingenious way of safely disposing of sewer gases which could otherwise lead to explosions."
Some lamps, now more than 100 years old, have been vandalised or have lost parts over time, and will get new lanterns and arms.
They will be repainted and powered by solar power LED lights to replicate the original lighting.
The work is due to be finished by December.
Councillor Bryan Lodge said: "The lamps provide a nostalgic reminder of days gone by and remain lasting landmarks of Sheffield's celebrated heritage."