Sheffield city-centre stores open early for autism shopping event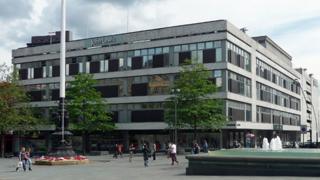 Fifteen stores in Sheffield city centre have provided special shopping sessions for people with autism.
Some opened early to allow those with the condition to shop in an environment with lower lighting and no in-store music.
Stores offered personal shopping sessions and some offered sensory rooms.
The organisers, autism charity Sparkle Sheffield, said it was understood to be the first such event in the UK.
Major chains such as John Lewis, Marks and Spencer, Debenhams, Primark and Starbucks joined the initiative from 07:30 BST to 10:00 as part of World Autism Awareness Week.
Myra, who has a son with autism, said that shopping with her boy can be a "belittling" experience.
She said: "The judgmental stares... assuming that a child is naughty.
"It's about a child having sensory overload. The mum's already in panic mode trying to get that child to calm down."