Gareth Wilmot: Family's 'disbelief' at son's dementia, age 40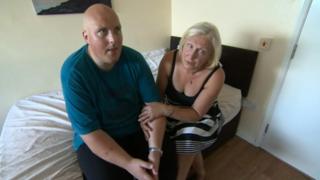 The parents of a man who died from a rare form of dementia at 40 have said the disease took them completely by surprise.
Gareth Wilmot, 40, from Barnsley, South Yorkshire, was diagnosed with frontotemporal dementia five years ago.
It is caused when nerves in the frontal and temporal lobes of the brain die.
Mr Wilmot died last week and his parents, Lesley and Graham, said they wanted to raise awareness that dementia affects young people too.
Read more about this and other stories from across South Yorkshire
"We have always assumed it was a disease that affected older people," Graham Wilmot said.
"In the worst possible way we had our eyes opened."
Mr Wilmot, who died on 27 March, studied theatre in Manchester and went on to teach children with behavioural issues.
His parents said Mr Wilmot was "very outgoing, bubbly and larger than life" until he was diagnosed in 2012.
"His personality changed, that was the biggest issue, he could not remember things, important things," his mother said.
"His communication started to go."
"As a little boy he never shut up, but when he was ill he never spoke," his father said. "The most you ever got was one word answers."
Mr Wilmot was initially diagnosed with depression before dementia was confirmed - a situation that is not unusual according to charity Dementia UK.
Its chief executive, Dr Hilda Hayo, said: "A diagnosis of dementia in your 30s remains very rare and it can be very challenging to get an accurate diagnosis.
"The problem is that the public - and GPs - tend to think dementia always means memory loss.
"However, as younger people tend to have rarer types of dementia the signs and symptoms can be different and may include behaviour, personality and mood changes."
Mr Wilmot's parents said they had tried to make "new memories" as his condition deteriorated and had spent as much time with him as they could before his death last week.
"It was very difficult to try to come to terms with the way it progresses," Mrs Wilmot said.
"The last 10 days were probably the hardest, knowing that we were going to get to this point, trying to cling on to him but he is slowly slipping away from you."
---
Dementia in younger people
Dementia is "young onset" when it affects people of working age, usually between 30 and 65 years old
It is a degeneration of the brain that causes a progressive decline in people's ability to think, reason, communicate and remember
An estimated 42,325 people in the UK have been diagnosed with young onset dementia and they represent about 5% of the 850,000 people with dementia
Dementias that affect younger people can be rare and difficult to recognise
About 12% of young people with dementia have frontotemporal dementia
It is caused by damage to the cells in the frontal and temporal lobes of the brain - the frontal lobe control emotions, behaviour and personality and the temporal lobes are responsible for language
Symptoms vary depending on the exact areas of the brain affected
Source: Young Dementia UK
---