Yorkshire Wildlife Park plans £50m expansion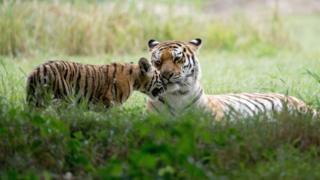 Yorkshire Wildlife Park has announced a £50m expansion which it says would create 300 jobs and bring in new animals.
The park has secured 150 acres (61 hectares) of land next to its site in Branton, near Doncaster.
Bosses said the plans, if approved, included the development of new reserves to continue the park's conservation work.
Outline planning permission is due to be submitted in the coming months.
CEO John Minion described it as a "major investment" which would double the workforce from 300 to 600.
He added: "Since opening we have also been able to contribute hugely to protecting endangered species such as Amur tigers and leopards and African painted dogs, and our visitors share our passion to cherish wildlife and ensure its survival.
"This expansion will allow us to take our conservation work to another level."
The park, which is home to more than 400 animals, opened in 2009 and is now one of the UK's most popular zoo attractions, with 761,000 visitors last year.
Bosses said the new land would enable a natural expansion of the existing attraction and a new access from Hurst Lane.
A visitor hub is being designed at the new entrance, which could include a hotel and restaurants.
There will also be more apprenticeship and work experience opportunities as part of the plans.
Gary Verity, chief executive of Welcome to Yorkshire, said: "This is a very exciting development for the team at Yorkshire Wildlife Park who have done a fantastic job developing the attraction since it opened."
People can have their say on the plans at public consultation events at the park on 16 and 17 June.