Doncaster man jailed for attack on pet puppy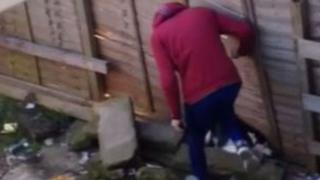 A man who was caught on camera kicking, shouting and swearing at his pet puppy has been jailed for the attack.
Thomas Miller's husky-type dog, Gizmo, cowered and yelped throughout the assault.
Miller, 25 of Schofield Street, Mexborough, was jailed for 18 weeks at Doncaster Magistrates' Court on Monday.
He admitted causing unnecessary suffering by inflicting blunt force trauma, physical violence and intimidating behaviour.
More news from across Yorkshire
The RSPCA said the attack, which was filmed on a camera phone, was "utterly disgusting".
Miller is part-way through a jail sentence for dangerous driving.
He will serve the animal cruelty sentence concurrent to the dangerous driving sentence of two years and five months, which was given at Sheffield Crown Court on 27 March.
Miller was also ordered to pay £500 court costs, a £115 victim surcharge and given a lifetime ban from keeping animals.
His two dogs - one of them Gizmo - were taken from him by the RSPCA and will be rehomed.
Miller admitted the charges in January.
'Spoilt rotten'
RSPCA inspector Keira Benham said: "It's clear from the footage that Gizmo is petrified of Miller. He knows what is coming as soon as Miller begins to approach him.
"It's an utterly disgusting way to treat an animal, let alone a puppy.
"I want to thank the member of the public who contacted us about this, who was so brave.
"And I hope that Gizmo and Miller's other dog, Reco, will now be able to enjoy the amazing new forever homes that are lined up for them, where they'll be spoilt rotten."