Ex-South Yorkshire Police chief: 'I was stabbed in the back'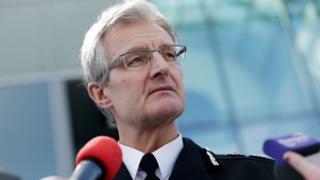 The former chief constable of South Yorkshire Police has claimed he was "stabbed in the back" by the force's Police and Crime Commissioner (PCC) following the Hillsborough inquests.
David Crompton was suspended by PCC Dr Alan Billings after a press statement he gave was interpreted as blaming Liverpool fans for the disaster.
Mr Crompton was forced to resign from his position by the PCC.
The High Court ruled Dr Billings had acted unlawfully in removing him.
BBC News has also found that removing Mr Crompton from his post is likely to cost taxpayers more than £500,000 in legal fees, plus additional staff expenses.
The Hillsborough inquests concluded in 2016 and found that all 96 Liverpool fans had been unlawfully killed in 1989.
'Questions to answer'
Dr Billings suspended Mr Crompton the day after the verdicts were returned.
Speaking to BBC Yorkshire, Mr Crompton said: "I don't feel angry about what happened to me, I've just been left extremely disappointed by the sequence of events that unfolded.
"I do feel the PCC has serious questions to answer about his conduct, and I feel like he and his staff stabbed me in the back."
Following the inquests, Mr Crompton said in a press statement that South Yorkshire Police had "never sought at any stage to defend its failures or its officers. Nevertheless these failures had to be put into the context of other contributing factors".
The phrase "other contributing factors" was interpreted by Dr Billings and the families of those Liverpool fans who had died as the force trying to blame the Liverpool supporters for the disaster.
However, in a recent ruling, the High Court said "it would be impossible for any fair-minded observer" to reach that conclusion.
Mr Crompton says Dr Billings saw the statement he issued two hours ahead of its publication.
"If he [Billings] had honestly felt there was a problem with the statement he should have said so," he said.
But Dr Billings said: "When David Crompton presented me with the second statement he knew what my position was, I had said there should be no further public comment.
"And there certainly shouldn't have been a statement with those words in it, which got people very angry and upset the families of those who died at Hillsborough."
The relatives of those Liverpool fans who died claimed that during the inquest Mr Crompton had ordered police lawyers to "pour blame onto the fans", thereby lengthening the legal process.
When asked about this criticism Mr Crompton said he would not be commenting on his conduct during the two-year inquest.
The office of the Police and Crime Commissioner of South Yorkshire said the legal process to remove Mr Crompton from his position cost £157,000 in legal fees.
However, BBC Yorkshire has found invoices in the spending log of the PCC's office that show between October 2016 and May 2017, the PCC spent £112,000 on two different sets of lawyers.
One legal firm was involved in the initial legal process to remove Mr Crompton from his position, while the other firm was employed to represent Dr Billings during the judicial review.
The PCC's office said a further £85,000 in legal costs for Dr Billings has yet to be paid.
While Mr Crompton was suspended, South Yorkshire Police spent an additional £150,000 in replacement staff costs.
The BBC understands the PCC will now face a potential of legal bill of £180,000 to cover the legal expenses incurred by Mr Crompton.