Orgreave inquiry: Marchers at rally told fight continues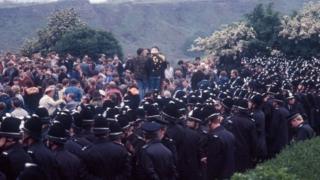 Campaigners have repeated their calls for an inquiry into one of the most violent episodes of the miners strike in the 1980s.
Police and miners clashed at a coke plant in Orgreave, near Rotherham, in 1984.
Heavy-handed policing was blamed by miners, although police claim they were defending themselves.
Former miners, trade unionists and campaigners attended an annual march and rally in Orgreave on Saturday.
A public inquiry into the incident was ruled out by the home secretary in October.
What was the 'Battle of Orgreave'?
Barbara Jackson from the Orgreave Truth and Justice Campaign said the close general election result meant they remained hopeful an inquiry would eventually be held.
"We still believe there is everything to play for," she said.
"When Amber Rudd turned down the inquiry last year the four reasons she gave were so spurious, we always felt if we hung on our time would eventually come."
A number of speakers attended the rally including Yvette Cooper, the Labour MP for Normanton, Pontefract and Castleford.
She repeated her calls for files relating to the incident to be declassified and published.
"I am going to keep pressing for those to be made public because I think people have a right to know what happened."
Ruling out an inquiry in October, Mrs Rudd said: "Despite the forceful accounts and arguments provided by the campaigners and former miners who were present that day about the effect that these events have had on them, ultimately there were no deaths or wrongful convictions."
She also said changes in policing since the period meant there would be "very few lessons to be learned".