UK's 'youngest' doctor to start work in York hospital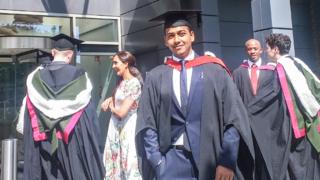 A University of Sheffield medical student is thought to be the UK's youngest ever doctor.
Arpan Doshi graduated on Monday at the age of 21 years and 334 days.
He was accepted on the medicine course aged just 17 after passing a baccalaureate exam while living in the south of France.
The youngest medical graduate previously reported was Rachael Faye Hill, who received her medical degree in 2010 aged 21 and 352 days.
Despite his age, Mr Doshi said he had no problem adapting to student life in the UK.
I always wanted to be a doctor," he said.
"From an early age I was fascinated by how the human body worked and it's good to be able to help people."
'Very proud'
He moved from India to Aix-en-Provence in 2009 after his engineer father got a job working on a nuclear fusion project.
At 16 he sat his International Baccalaureate, the French equivalent of the UK's A-level exams, passing in chemistry, physics, economics, mathematics, Hindi and English.
After scoring 41 out of a possible 45 marks in the exam, the University of Sheffield awarded him a £13,000 scholarship towards his medical studies.
He will now start his two-year training as a junior doctor at York Teaching Hospital and hopes to later specialise in heart surgery.
Mr Doshi said his parents, who have moved back to India, were unaware he was the UK's youngest doctor.
"They are very proud of me and I am very grateful for their support," he said.