Final warning for officer over Sheffield arrest account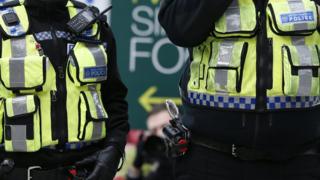 A police officer has been given a final written warning for submitting a misleading account of an arrest made during a demonstration by pensioners.
PC Stefan Money was reprimanded over the statement he made following the protest at Sheffield station.
British Transport Police (BTP) said the wording of the statement was "misleading and contained some wording deemed inappropriate".
It said he had also breached standards of professional behaviour.
Protesters angry at cuts to free travel for the elderly staged the demonstration on 23 June 2014.
Two protesters were charged with obstructing police following the protest but they were later dropped.
A misconduct hearing held in York found the statement of Doncaster-based PC Money was "misleading, that the language used was inappropriate and the officer's response was lacking judgement".
However, it found there was "no dishonest intent".
'Cause offence'
The hearing found the wording, which has not been made public, amounted to gross misconduct
BTP head of professional standards, Det Supt Gill Murray, said: "The panel found that PC Money had breached standards of professional behaviour, namely through the use of inappropriate language in his statement. The panel found no evidence to suggest any issues in relation to PC Money's honesty and integrity.
"It is unacceptable for a police officer to use such language that could cause offence and undermine public confidence.
"PC Money, who apologised for any offence he may have caused at the hearing, has faced the consequences of these actions."
Four other officers who were referred to the BTP by the Independent Police Complaints Commission in relation to their involvement in the protest were found to have no case to answer at a series of previous hearings.