Sheffield trees dispute: Council legal costs hit £250k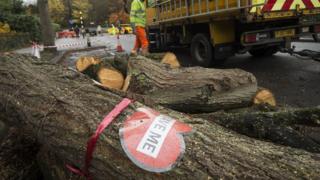 Sheffield City Council has run up a £250,000 legal bill defending tree felling operations, the BBC has uncovered.
The sum, which includes legal services, counsel fees and other costs, involves court hearings in 2016 and 2017 involving the Streets Ahead scheme.
Campaigners said the cost to taxpayers in the city "could have been avoided".
A council spokesman said it took a "pragmatic approach" and had sought the "best possible deal" for taxpayers.
As part of Streets Ahead, an ongoing £2bn project to improve roads and footpaths in Sheffield, about 5,500 trees have been cut down since 2012.
The authority insists those earmarked for felling were diseased, dying or damaging but campaigners say some healthy trees have also been lost.
The BBC has learned £149,660 was spent on costs connected to an order stopping people holding up work by standing inside safety zones erected around the doomed trees.
A further £103,701 was spent after campaigners took legal action in 2016, claiming the council had failed to assess the environmental impact of the felling.
A High Court judge dismissed the bid for a judicial review into the programme, with the council granted an injunction in August against those "trespassing within safety barriers".
Speaking on BBC Radio Sheffield, Bryan Lodge, Sheffield City Council's cabinet member for environment and street scene, previously said the losing party in a civil action "pays the costs".
Despite this, the council has only sought "realistic" costs from three members of the Sheffield Tree Action Group (STAG) who were asked to pay £1,000 each.
Dave Dillner, STAG founder, said: "It's the council's fault, because it could have been avoided, they could have worked with us.
"STAG is made up of concerned Sheffield citizens who have fought to preserve their environment for this generation and future generations."
In a statement, Mr Lodge said: "Ultimately, the street tree replacement programme was found to be lawful on all counts by a High Court judge and an injunction was granted to prevent trespass within safety barriers around tree works.
"Further legal action to recover higher costs would have resulted in associated fees, making the exercise somewhat counterproductive."