South Yorkshire Police chiefs back abuse victim's law change campaign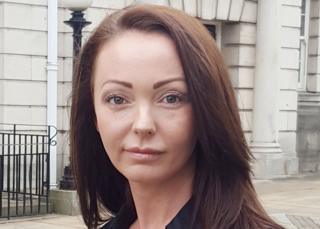 Calls for child sex abuse victims to be pardoned for crimes they committed while being groomed have been backed by South Yorkshire Police bosses.
Sammy Woodhouse, who was abused by a Rotherham sex gang, said her criminal record prevents her from "moving forward" and wants a change in the law.
She also believes fear of prosecution deters people from seeking help.
Her campaign has received the backing of South Yorkshire's Police and Crime Commissioner (PCC) and chief constable.
More stories from across Yorkshire
In a letter to Ms Woodhouse, Dr Alan Billings and Stephen Watson said they were "in favour" of her efforts to bring about a change in the law.
They said: "We believe that the concept of 'Sammy's Law' would provide vital reassurance to victims and survivors that the abuse they suffered in the past will not continue to impact their future."
Dr Billings also told the BBC: "They [victims] were extremely vulnerable and were let down badly by all the authorities at that time and we have to do everything we possibly can to make it possible for them to lead a better life.
"Some of them now have families of their own and are determined to make something of their lives, so if we can give them some support then I will back them."
Dr Billings added that he has "no idea" if a change in the law is likely, but said a criminal record "weighs [the victims] down".
The campaign has also been backed by the chief constable of Bedfordshire Police, Jon Boutcher.
'Victim blaming'
Ms Woodhouse, 32, was abused for years by Rotherham grooming gang leader Arshid Hussain from when she was 14 years old.
During that time she was groomed to commit crimes and consequently has a criminal record, she said.
"Sammy's Law is about having something in place nationally that will stop children from being charged or convicted whilst they are being groomed and forced to commit a crime," she added.
"As a child I was mentally, physically and sexually abused and also groomed to commit crimes.
"I'm asking for the things that are on my criminal record to be wiped off. It's another way of victim blaming and it prevents us from moving forward.
"I've got my justice and now I want to be able to fully move forward, but I can't do that with a criminal record."
She said she planned to write to all chief constables and PCCs for their support and hopes to secure a meeting with Home Secretary Amber Rudd.
A Home Office spokesperson said: "We will consider Ms Woodhouse's situation and respond to her directly in due course."