Man unlawfully killed in Balby house attack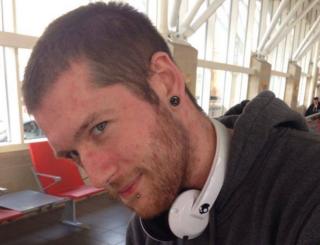 A former soldier beat and stabbed a man to death in a seemingly unprovoked attack after drinking and taking drugs, an inquest has heard.
Jennifer Swift, who was legally known as Jonathan Swift, attacked Eric Flanagan, 26, with a kitchen knife and a broken shovel at a house in Balby, Doncaster, on 15 November.
Mr Flanagan died in hospital as a result of his injuries a month later.
Senior Coroner Nicola Mundy concluded he had been unlawfully killed.
More stories from across Yorkshire
Doncaster Coroners' Court heard that Swift, who had been taking non-prescription hormone drugs to help her transition to a woman, was staying with a friend, Howard Smith, at his home in Surrey Street, Balby.
On the day of the attack, Mr Flanagan, who did odd jobs for Mr Smith, had been working in the garden while Mr Smith, Swift, 49, from Seaforth, in Sefton, and Paul Kirkham were drinking and taking crack cocaine indoors.
At about 17:30 GMT Mr Smith had left the property and Mr Kirkham had gone upstairs.
Mr Kirkham said he heard Mr Flanagan and Swift shouting at each other.
"I looked in to the kitchen and saw Swifty with his back to me...he was calling Eric a grass," he said
"I told him to pack it in and Swifty reached behind him and picked up a knife.
"I shouted 'Swifty, stop'. He just turned towards me and looked at me. It was one of the most evil looks I've ever seen. I knew that when he had finished with Eric he would come for me so I ran out the back door."
The inquest heard that Mr Kirkham returned to the house a short time later with Mr Smith and called an ambulance.
Pathologist Dr Charles Wilson said Mr Flanagan had suffered multiple injuries to his head, chest and right arm.
He said the cause of death was pneumonia and hypoxic-ischemic brain damage caused by multiple injuries.
Swift was arrested after being found lying on the ground near to the Hare & Tortoise on Bawtry Road.
'No remorse'
Det Con Benjamin Harris said that following the arrest Swift was charged with attempted murder.
While in custody he said she made a number of comments, including saying she had "no remorse".
He said Swift, who had served in Iraq, was legally know as Jonathan but had asked to be called Jennifer.
He said that whilst in custody Swift had been assessed as having personality disorder issues.
Following Mr Flanagan's death the Crown Prosecution Service authorised a charge of murder but Swift was found hanged in her cell at HMP Doncaster before she could be formally charged.
Ms Mundy said: "There are only two people who know exactly what happened that day but from what I've heard there's no evidence of any motive for such a sustained and violent attack."