Thirteen people 'interested' in adopting four sisters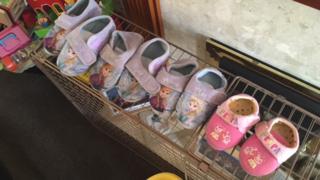 A number of people have expressed an interest in adopting four sisters following an appeal in the media, a council has said.
The girls, all under age 10, have a care plan approved by a judge that rules they need to remain together.
They are in the care of a foster family in South Yorkshire but social workers are looking for a permanent home.
A spokeswoman for Rotherham Council said more than 13 people had contacted the authority over the last week.
"We have had a number of inquiries about adopting the girls," the spokeswoman said.
More on this and other South Yorkshire stories
The girls' foster carer "Anne" said that unfortunately she and her husband were too old to take on the sisters permanently.
"They are very close and they do need to be together, I think it would devastate them if they were split up," she said.
Anne, whose name has been changed to protect the identity of the girls, said they were "lovely" children who are "kind" and "considerate"
The sisters are one of 12 groups of siblings of four or more in the country who need to be placed together.
More children are being taken into care across England, but the number who are adopted is falling.