Katie-Ann Steele: Trolled beauty queen makes final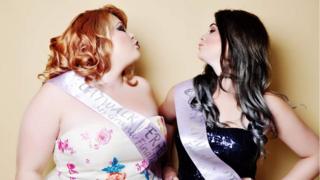 A woman who was trolled after competing in a plus-size beauty pageant has reached the finals of another national competition.
Katie-Ann Steele said she was targeted by people criticising her weight after her story was shown on TV and in national newspapers in 2012.
The 26-year-old from Barnsley, South Yorkshire, took a break from pageants until she entered Catwalk Perfect UK.
Organisers say it has no barriers on age, size or experience.
Miss Steele, who is representing Wombwell in the pageant, was featured in the BBC Three programme Britain's Biggest Beauty Queens, which aired in December 2012.
She said: "A few years ago I entered a plus-size pageant. And I had a BBC documentary made about me which was brilliant.
"Except that when it aired not only was there an abundance of abuse on Twitter, but when national newspapers ran the pictures and stories, there was all sorts from 'She is going to be a cost to the NHS, she should go and kill herself before she costs us any money', to 'you can tell this bird works in a pie factory'.
Miss Steele said she laughed it off at the time, but it made her stop competing until her friend set up the new pageant.
She added: "It isn't just getting on stage covered in glitter and showing what you've got. But there is the element of being judged.
"For me, somebody who is a size 22-24 to get on stage and get as many points and score as highly as other girls, it isn't just about how pretty you are, it's about your presence."
She will appear in the finals along with her 18-year-old sister Maggie Mumby, who is competing in a separate age group for Barnsley.
The final is on Saturday.