Tramlines festival to move from city centre to Hillsborough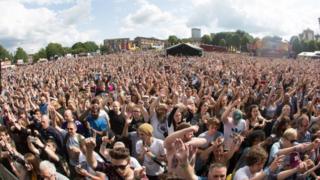 Sheffield's Tramlines music festival is to move out of the city centre to a new site in Hillsborough Park from July.
The festival began in 2009 as a free city-wide event and now attracts more than 100,000 people each year.
Headliners have included Public Enemy, Sister Sledge, Olly Murs, Sheffield DJ Toddla T, and Katy B.
Tramlines organisers said it had now "outgrown" the city centre, but a main stage at Hillsborough, accessible from the tram, will accommodate 40,000.
Sheffield City Council approved the licence for Hillsborough Park and said the event is likely to attract 100,000 to the city again.
Richard Eyre, head of major events, said: "The main festival will be at Hillsborough, but we're still 100% committed to keeping the fringe festival in the city centre, free for Sheffield people and businesses.
"People can still dip in and out of the free city centre events".
Tramlines was criticised for becoming "too commercial" with ticket prices rising to £60 in 2017, but organisers and Sheffield City Council have blamed the rise on funding cuts.
Festival director Sarah Nulty said: "We can now put our plans into practice as we celebrate the 10th anniversary with the biggest and best Tramlines to date."
The first line-up announcement will be made in early 2018.
The council said the city centre offering is likely to include a buskers stage near the station, food festival at the Peace Gardens, and world music community stage at Devonshire Green.
---
Tramlines past
2009: Free admission with a line-up including The XX, Reverend and the Makers, Toddla T, Pixie Lott, Little Boots, Rolo Tomassi, Just Jack.
2013: First year charging at £6 per day.
2014: Price increased to £12 per day, or £28 in advance for all three days. Line-up: Katy B, Public Enemy, The Cribs, Annie Mac.
2015: £30 weekend ticket. Main stage moved from Devonshire Green to Ponderosa Park to increase capacity. Line-up: The Charlatans, Basement Jaxx, Buzzcocks.
2017: £45 in advance/ £60 on the door, plus for the first time, a separate £25 ticket for club nights after 22:00 BST for Friday and Saturday. Line-up: The Libertines, Metronomy, Primal Scream, The Coral.
2018 (20-22 July): £30 for early bird ticket.
---
Pubs and venues in the city centre will also hold events.
Nick Simmonite, of the Frog and Parrot on Division Street, which has always held music during Tramlines, said it was a "cracking move" for the organisers, but "could leave a bit of a black hole [in the city centre] unless we fill it.
He said: "We need to work hard on that."