Tommy Ward death: Murder arrests over beaten man, 80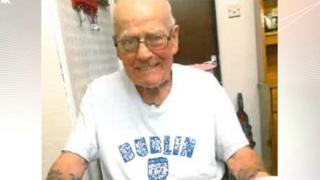 Two people have been arrested on suspicion of murdering an 80-year-old man.
Tommy Ward was brutally attacked in his home on Salisbury Road, Maltby, on 1 October 2015. His life savings of £30,000 had been stolen.
The ex-miner, who was found by his carer, died from his injuries in hospital the following February.
A man and a woman, both 29, have been arrested on suspicion of robbery and murder, South Yorkshire Police said.
Three South Yorkshire men arrested on suspicion of murder in August 2016 were released on bail without charge.