Sheffield leisure centre fined over chemical leak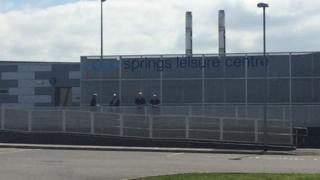 A leisure centre has been fined £7,000 after a chemical reaction at the site led to eight children and six adults being treated for minor burns.
Springs Leisure Centre, in East Bank Road, Sheffield had to be evacuated after chlorine gas escaped into the swimming pool area in May 2016.
It happened when technicians inadvertently mixed two chemicals while fixing pool filtration equipment.
Operator Sheffield City Trust admitted breaching health and safety rules.
More stories from across Yorkshire
Prosecutor Paul Barber told Sheffield Magistrates' Court a safety notice warning against mixing the two chemicals was partially obscured and the instruction manual and risk assessment documents were not stored with the equipment.
He argued had this not been the case the incident could have been avoided.
The court heard the gas was able to escape as initially the doors between the plant room and the pool were propped open but when the maintenance workers realised what had happened they shut the doors and opened the fire escape.
However, a combination of the draught and a fault with the ventilation system meant the gas continued to escape into the pool area.
Mr Barber said none of those involved in the incident had any ongoing health problems as a result.
'Below standard'
Alexander dos Santos, on behalf of the trust, said the incident was the result of a "convergence of unlikely factors".
He said that the trust had since provided further training to maintenance staff at its 27 venues and manuals and risk assessment documents were kept with the machinery.
Magistrates fined the trust £7,000 and ordered it to pay £5,500 towards the costs of the prosecution, saying: "We feel insufficient attention has taken place regarding safety notices and the incorrect siting of instruction manuals".
Chief Executive of Andrew Snelling said: "We accept that we fell below the standards on the day and we regret the harm to our customers."