Scathing report on Sheffield-Rotherham tram-train pilot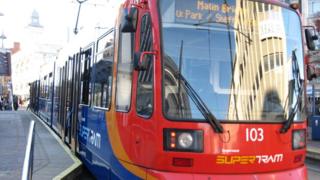 The UK's first tram-train project has incurred "spiralling" costs with questionable benefit for similar schemes in the future, a scathing report by MPs has found.
The Sheffield-to-Rotherham scheme will enable trams to run on existing train tracks as well as on tram lines.
But its costs have leapt to £75.1m - five times the original £15m budget.
The Public Accounts Committee (PAC) said "the high level of risk and uncertainty" had not been considered.
The two-year pilot was approved by the Department for Transport (DfT) in 2012 and undertaken by Network Rail.
But the project has been plagued with "unacceptable cost increases and delays" the PAC found.
Benefit 'not clear'
Committee chair Meg Hillier, Labour MP for Hackney South and Shoreditch, described the scheme as "another rail project with all the makings of a 'how not to' seminar for senior civil servants".
She said it was a trial of technology new to the UK "yet neither Network Rail nor the DfT properly considered the high level of risk and uncertainty".
"There have been long delays, and it is still not clear how, or even if, the experience of running this pilot will reduce the costs and improve delivery of any future tram-train scheme."
The scathing report noted that the scheme received DfT approval even though it offered "low" value for money and that the anticipated benefits to other cities were "very uncertain".
It said DfT failings echoed those associated with the modernisation of the Great Western line.
Headline conclusions:
Network Rail's initial costs estimates (£18.7m) were "wholly unrealistic" and the DfT failed to properly challenge them
Despite the spiralling costs, the DfT allowed the project to continue without questioning if it offered value for taxpayers, or was likely to achieve its wider goals
The DfT and Network Rail do not know how much money has been wasted on an line electrification project that has now been cancelled
The government and Network Rail has not assessed how mistakes made in the pilot could reduce the costs of other tram-train schemes
As recently as last year Rail Minister Paul Maynard rejected a DfT recommendation that the project be scrapped.
The committee said Network Rail had underestimated the scale and complexity of the works. It called on the company to produce realistic cost estimates and make appropriate allowances for risk and uncertainty.
Rob McIntosh, from Network Rail, said it acknowledged and accepted PAC's recommendations and that while the plan had "brought with it many complex challenges", it was making "good progress".
A DfT spokesperson said the pilot would be "a blueprint" for rolling out tram-train technology across the country.
"We have been clear about our disappointment at the delay and cost of this project but Network Rail now have costs under control."
The tram-train scheme is not due to be completed until May 2018,