Sheffield terror suspect, 21, released without charge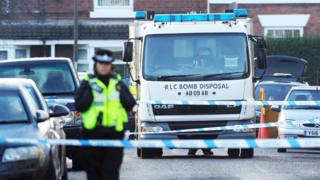 A man arrested in Sheffield over an alleged Christmas "terror plot" has been released without charge.
The 21-year-old, from Fir Vale, was arrested in the Firth Park area on Friday but detectives said they have found no grounds to charge him.
Four other men have been questioned. A 36-year-old from Burngreave and a 41-year-old from Meersbrook arrested on 19 December were released without charge.
Two men appeared at Westminster Magistrates' Court on Friday.
More stories from across Yorkshire
Andy Sami Star, 31, who owns a chip shop in Chesterfield, and 22-year-old Farhad Salah from Sheffield, were charged with engaging in the preparation of an act of terrorism.
They were remanded in custody to appear at Central Criminal Court in London on 19 January.
The Counter Terrorism Policing North East said the public's safety remained its priority.