Olivia Faulkner's parents start appeal after her suicide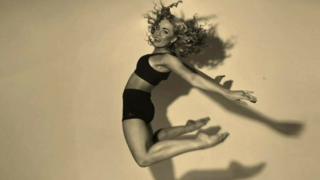 The parents of a dancer who took her own life are raising money to help support others in the entertainment industry.
Olivia Faulkner, 19, from Barnsley, killed herself on 27 November.
Zoe and Steve Faulkner, her parents, have started a fundraising campaign to raise "awareness of mental illness in the dance world".
Mrs Faulkner said her daughter worked 12-13 hours a day "to make sure she was perfect".
"She would never have admitted that something weren't right," she said. "This would have been a failure to Olivia, because she was always taught to be number one.
"She would have thought she wasn't number one if she said how she was feeling and she would have been scared of not getting a job."
Ms Faulkner left home to attend a dance school aged 13 and gained a place at a London dance college at 16. She graduated in July 2017 with several awards, her family said.
She lived and worked in London.
'Lives ripped apart'
She had already worked professionally in a musical and was due to perform in London in February.
Mr Faulkner said he and his wife had "no signs whatsoever" Olivia was suffering from mental health problems.
Mrs Faulkner said: "We want to help other people not go through what we are going through, our lives have been ripped apart."
Mr Faulkner said: "We just feel as though there is not enough support.
"They come out of college, dance and musical theatre colleges but there is no guarantee you're going to get work and there's no support."
A Go Fund Me page has already seen more than £7,000 raised.
If you are feeling emotionally distressed and would like details of organisations which offer advice and support, click here or you can call for free, at any time to hear recorded information on 0800 066 066.