Sheffield tree protesters will be removed using 'reasonable force'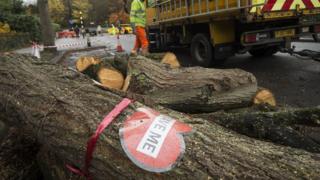 Campaigners protesting against tree-felling in Sheffield will be physically removed if they enter "safety zones", officials have said.
Sheffield City Council contractor Amey said "specially-trained stewards" would remove anyone who wilfully obstructed the work.
The firm is removing damaged trees as part of a £2bn scheme.
Campaigners say they are also removing healthy trees, which Amey says may damage pavements.
More on this and other stories from across Yorkshire
Darren Butt, account director with Amey, said: "Our first priority is to keep people safe and within the law by reminding them to stay out of the safety zones, so we can complete our work for the benefit of everyone in Sheffield."
However, he said people who "deliberately obstruct our work on the highway will be removed" using "reasonable force".
He said the action was necessary due to a "continued disrespect for the law" by some involved.
Mr Butt said the firm was acting on legal advice and had held talks with Sheffield City Council and South Yorkshire Police.
"All activity within the safety zones is being filmed... and this footage may be used in evidence," he said.
The company said that for every tree it removed a new sapling was planted as a replacement.
Thousands cut down
Under the terms of an injunction brought by Sheffield City Council, people are forbidden from entering safety zones set up around trees being felled.
It also forbids people encouraging or facilitating anyone else to breach the injunction, including through social media.
As part of Streets Ahead, an ongoing project to improve roads and footpaths in Sheffield, about 5,500 trees have been cut down since 2012.
The authority insists those earmarked for felling are either "dangerous, dead, diseased, dying, damaging or discriminatory".
However, campaigners claim many of the trees classed by the council as "damaging" or "discriminatory" are healthy specimens which should not be cut down.