Butterfly temporarily saves threatened Sheffield tree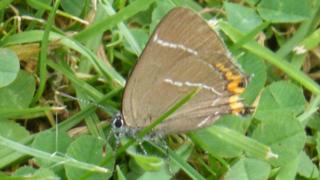 A butterfly has won a temporary stay of execution for a threatened elm tree.
Sheffield City Council said the tree in Nether Edge poses a risk to the highway and should be felled.
It is home to the rare White-letter Hairstreak butterfly and the council said in order to move the butterfly the tree will be retained "for a number of months".
The Sheffield and Rotherham Wildlife Trust said it remained opposed to the tree being felled.
The tree on Chelsea Road is under threat as part of the council's street maintenance programme.
The council, which is planting new trees after removing existing ones, insists the trees earmarked for felling are either "dangerous, dead, diseased, dying, damaging or discriminatory".
However, many of the trees classed by the council as "damaging" or "discriminatory" are healthy specimens which campaigners say should be saved.
White-letter Hairstreak butterfly
A small butterfly which lives in the tops of elm trees throughout England and Wales
The underwings are brown, with a white W-shaped streak, an orange edge and small tails
The White-letter Hairstreak has the erratic, spiralling flight typical of Hairstreaks
It is difficult to spot as it flies around the tops of trees
The species declined in the 1970s when its foodplants were reduced by Dutch Elm disease.
Source: Butterfly Conservation
Bryan Lodge, cabinet member for environment, said: "Due to the deteriorating condition of the tree, we now have to carry out pressing safety work to tackle extensive decay in the tree to ensure public safety."
Material pruned from the tree will be stored and then searched by hand by experts for butterfly eggs, Mr Lodge said.
Liz Ballard, Sheffield and Rotherham Wildlife Trust's chief executive officer, said:
"In the interests of securing the best outcome for wildlife, we have decided to assist with the council's butterfly relocation plan, involving our staff who have previous experience of White-letter Hairstreak egg relocation.
"We hope this will help to improve the chances of success for securing a future for the butterfly colony.
"We will continue to call on the council to re-assess and reconsider the need to ultimately fell the Chelsea Road elm tree."