Rotherham taxi driver 'groomed and raped girl'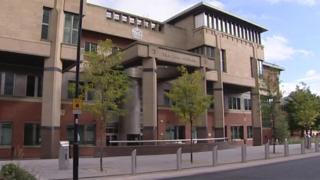 A taxi driver accused of raping a teenage schoolgirl has told a jury he had never met the alleged victim.
Ashgar Bostan, 47, is accused of attacking the complainant, now in her late 20s, twice at a flat in Wagon Road, Rotherham, between 2002 and 2004.
Prosecutors say she was raped by Bostan, who went by the name "Don", after she was "groomed and manipulated" by a woman living at the flat.
Mr Bostan, of East Bawtry Road, Rotherham, denies two counts of rape.
More stories from across Yorkshire
Giving evidence at Sheffield Crown Court, Mr Bostan said he had not heard of the alleged victim or a woman called Shafina Ali who lived at the Wagon Road flat, and that he had never visited it.
The court heard that in a police interview following his arrest in 2016 he said: "I've never raped anybody in my life. I'm a straightforward man. I've got five kids and I'm a grandfather.
"I've been brought up the right way and I know what's right and wrong and I've never done what this lady is saying."
He also said he had never been called Don.
Asked in court about a drawing of a flower with the names Gemma and Don written on it that was found in a notebook in his garage, he said he had "no idea" who was responsible for the image.
In cross-examination, the alleged victim claimed she was "100%" certain she had correctly identified Mr Bostan as Don, the man who attacked her.
She told the court: "I know who he is and I know what he did to me. I would not put myself through this if I was lying."
Asked about her decision to spend time at the flat, she said: "I was befriended by these people who groomed me in to staying at the property.
"I was a child and they were fully grown adults."
The court heard Shafina Ali died in 2009.
The trial continues.