Children find man's skull at Swaithe, Barnsley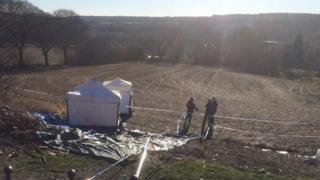 Children playing in a farmer's field unearthed the skull and bones of a man which may have been there for up to 20 years, police have revealed.
South Yorkshire Police said the age and identity had not been established, but the bones were "not historical".
Officers were called after the skull was found by children visiting the family who own the land at Swaithe, Barnsley.
The death is being treated as unexplained pending forensic tests.
Investigating officer, Det Ch Insp Martin Tate, said: "Forensic experts and archaeologists are methodically working through the crime scene to excavate all the bones and work out who this is and what happened."
While police are treating the death as unexplained, they are treating the scene - on land off Caulke Lane and Mitchell's Street - as they would a murder investigation.
Drones are being used to map the area and a post-mortem examination will be carried out at Sheffield's Medico-Legal Centre on Wednesday.
Mr Tate said: "We know very little at this stage. We're treating it as a murder scene but we simply don't know what we've got. It could be someone who has come to misadventure or had an accident.
"We'll look at all our records going back years and decades to work out who it is."
Tests will help identify the individual and might also provide a cause of death, the force said.
There is no indication the residents at the property next to where the discovery was made are linked or connected in any way, officers added.
Mr Tate said: "We know very little but the find is not 'historical'; it's not an ancient accident or burial.
"We'll be looking at our database of missing people locally and expanding to nationally to work out who this is."
Police are expected to remain at the scene for several days.