Sheffield tree protesters stage council chamber sit-in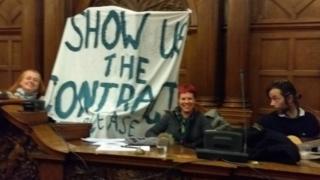 Campaigners against the felling of trees in Sheffield staged a sit-in lasting several hours at the city's council chamber overnight.
A group of 20 people descended from the public gallery at the end of Tuesday's full council meeting which finished at about 20:30 GMT.
Police were called but no action was taken and the protest ended at about 01:30 GMT.
It was the latest action in a dispute about the removal of city trees.
Read more stories from across Yorkshire
The council, which is planting new trees after removing existing ones, insists the trees earmarked for felling are either "dangerous, dead, diseased, dying, damaging or discriminatory".
However, many of the trees classed by the council as "damaging" or "discriminatory" are healthy specimens which campaigners say should be saved. Instead they say amendments should be made to surrounding pavements and roads.
Campaigners were demanding to see details of the £2.2bn private finance initiative deal (PFI) between Sheffield City Council and Amey, the private contractor carrying out the work.
Chris Rust, who described the protest as peaceful, said: The council has refused to show us the contract and we wanted to make the public aware of that."
Roger Doonan added: "The protest has brought a lot of attention and the more attention that is brought to bear on a £2.2bn deal the better."